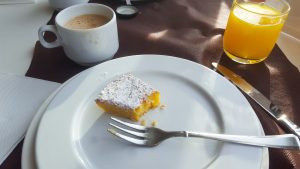 The Polytechnic University of Valencia hosted the people behind the Council of Coaches project working hard to create a multi-agent system, from the 5th till the 10th of March. Besides making massive steps on the technical implementation of the demonstrator, we had fun and good food!
My favourite food discovery this trip was the Tarta de Santiago, see the picture above. A deceptively simple almond cake with powdered sugar on top, but impressively wow taste-wise.
Another interesting Valencian tradition is "Las Fallas". Las Falles is some sort of traditional celebration for Saint Joseph and it includes a lot of bang!
I love a good fireworks diplay, but as a Dutchy it is a bit strange to watch fireworks during the day, when it is warm, and not around new years eve. In the Netherlands new years eve is about the only time you would find fireworks… when it's dark, cold, and there is less palm trees.