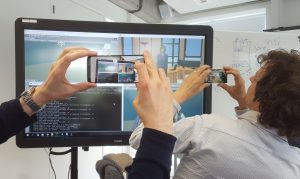 Visiting European research project partners is great: seeing the places, trying the food, meeting the people. It is only fair to return the favour from time to time. In the Council of Coaches project many partners are from Twente, so it makes a lot of sense (less people traveling) to have meetings in Twente. We were the hosts for two technical integration meetings, April 23-26 and October 8-12. We had guests from the University of Dundee in the UK, the Sorbonne University in France, the Polytechnic University Valencia in Spain, and the Danish Board of Technology Foundation.
We worked on integrating the various technical components from each of the partners into one system. After these meetings our agents could for example talk to each other in one Unity scene, keep track of arguments that they or the user made and gaze at each other when they were speaking.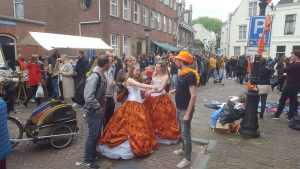 The meeting in April coincided with the Dutch national holiday 'Kingsday', the birthday of our king Willem Alexander. Everybody wears orange and sells their old crap at a 'vrijmarkt'. My birthday was during the meeting in October, so in good Dutch tradition I treated our guests on home made cakes.